Kaitlin Williams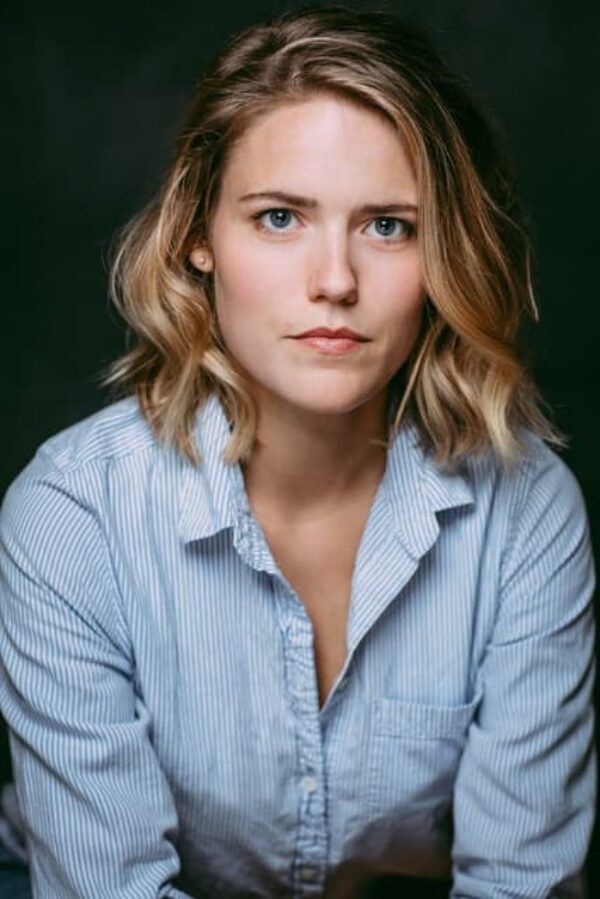 Kaitlin Williams
Kaitlin Williams is an interdisciplinary theatre artist. She was named Artistic Director of Pacific Theatre in 2020. She has also worked with Bard on the Beach, the Arts Club, the Belfry Theatre, ITSAZOO, Delinquent Theatre, the Electric Company, Chemanius Theatre, Western Canada Theatre, Touchstone Theatre, Rumble Theatre and many others.
Kaitlin has been nominated for multiple Jessie Richardson Theatre Awards and her Pacific Theatre shows have received 8 nominations, including "Outstanding Ensemble" (Almost, Maine) and "Outstanding Production and Direction" (Kim's Convenience). Kaitlin is a community Builder and she believes theatre is one of the best ways we can commune together—to bear witness to what it means to be human, grow in empathy, and collectively attempt to gain a deeper understanding of the world around us. kaitlinwilliams.com
I Relate To That
This dance piece is in development with Pacifc Theatre, Joanna Anderson and Mary-Jane Coomber, along with members of the South Granville Seniors Centre. I was directing I Relate To That at the same time as the Makers Collective was diving into Ecclesiastes. I kept seeing echoes of the text in the dance and in the voices reflecting on life, its meaning and import - almost as though these women were talking back to the Ecclesiastes voice. I offer this whole dance project as a response (and perhaps rejection) to the supposition that everything is meaningless.
Plastic Sticks
When I first spent time in Ecclesiastes for this Makers group the verses around "chasing after wind", and that there is "a time for everything" and "whatever God is up to, we can't know" etc all made me think of a time when a friend was trying to get pregnant - it was a journey. This poem is in relation to Ecclesiastes and also a way to honour what she went through. In the piece, there are some nods to verses from Ecclesiastes, specifically the Message translation.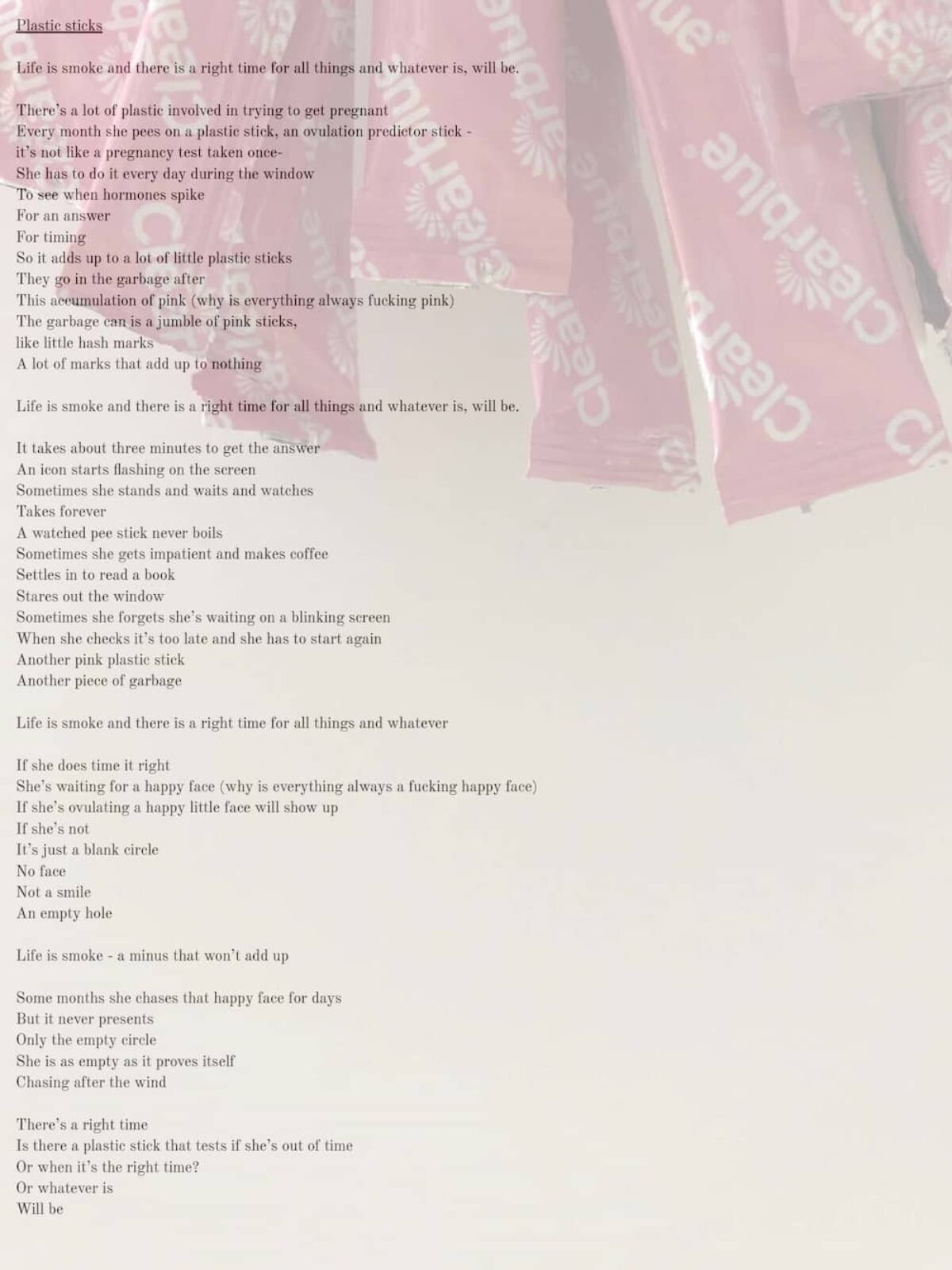 Plastic sticks
Life is smoke and there is a right time for all things and whatever is, will be.
There's a lot of plastic involved in trying to get pregnant
Every month she pees on a plastic stick, an ovulation predictor stick -
it's not like a pregnancy test taken once-
She has to do it every day during the window
To see when hormones spike
For an answer
For timing
So it adds up to a lot of little plastic sticks
They go in the garbage after
This accumulation of pink (why is everything always fucking pink)
The garbage can is a jumble of pink sticks,
like little hash marks
A lot of marks that add up to nothing
Life is smoke and there is a right time for all things and whatever is, will be.
It takes about three minutes to get the answer
An icon starts flashing on the screen
Sometimes she stands and waits and watches
Takes forever
A watched pee stick never boils
Sometimes she gets impatient and makes coffee
Settles in to read a book
Stares out the window
Sometimes she forgets she's waiting on a blinking screen
When she checks it's too late and she has to start again
Another pink plastic stick
Another piece of garbage
Life is smoke and there is a right time for all things and whatever
If she does time it right
She's waiting for a happy face (why is everything always a fucking happy face)
If she's ovulating a happy little face will show up
If she's not
It's just a blank circle
No face
Not a smile
An empty hole
Life is smoke - a minus that won't add up
Some months she chases that happy face for days
But it never presents
Only the empty circle
She is as empty as it proves itself
Chasing after the wind
There's a right time
Is there a plastic stick that tests if she's out of time
Or when it's the right time?
Or whatever is
Will be